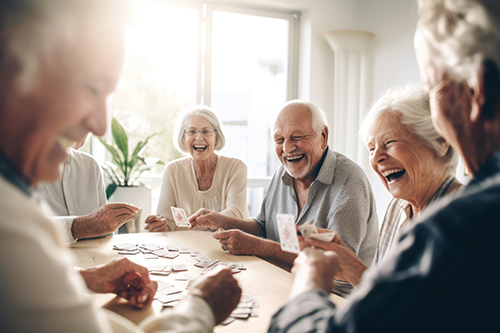 Welcome back to our Buford senior assisted living and memory care blog!
According to the Centers for Disease Control and Prevention (CDC), loneliness and isolation are connected to serious health problems. A national Academies of Sciences, Engineering, and Medicine report found that nearly one-fourth of people over age 65 are socially isolated.
The risk increases the older we get because elderly people are more likely to experience chronic health conditions, hearing loss, and the loss of loved ones. All these factors impact socialization.
Seniors who are isolated or lonely have a significantly increased risk of premature death. They are also more likely to suffer from anxiety and depression. Suicide rates are higher in this demographic as well.
Heart failure patients who are experiencing loneliness are nearly four times more likely to pass away and have a 68% increased risk of hospitalization. They are also 57% more likely to need to visit the emergency room.
The best way to combat these concerning issues is to build a thriving social circle and stay active. Manor Lake Assisted Living and Memory Care here in Buford welcomes new residents with many opportunities to meet new people. What can a senior who just moved into assisted living do to start building their social circle?
Be Friendly and Approachable
If you want to welcome new people into your life, you must give them an open door to enter through. That means being friendly and approachable.
Moving into assisted living can lift many of the burdens that come with aging and independent living. Some seniors have been dealing with their own struggles for a long time, so it can be difficult to adopt a more positive mindset.
If you struggle with this, it may be helpful to schedule time with a therapist. They can help you adapt to assisted living and find ways to be more approachable. Not only will it help you connect with more people, but it can also guide you toward a happier, more fulfilling lifestyle.
Get to Know the Staff
Getting to know the staff will make it easier to go to them when you need help or have questions. The staff may also be able to direct you to social opportunities or introduce you to other residents who share your interests or experiences.
Mingle in Common Areas
Our residents enjoy numerous common areas where fellow resident friends share fellowship. Join in a game of cards, watch a movie, enjoy the sunshine and wildlife, or simply breathe the fresh air.
Check Out the Events Calendar
Our community publishes a calendar of events. Find something that you enjoy and join in. Our Buford assisted living community provides many opportunities for fun and engagement among residents.
Try Something New or Learn a Skill
New things seem scary sometimes, but they can push us to learn more about ourselves. Being open to new experiences also helps us reach out to more people. Try a new activity or learn a new skill to enrich yourself and extend your social circle. Many colleges offer perks for senior citizens. In some cases, you could get free tuition. Check out local schools or look for online classes.
Even if you attend class remotely, learning something new could help you connect with the people you see in person. You may convince a neighbor to enroll in a class with you, so you can learn together.
Eat Meals with Your Neighbors
Human beings have used meals as a reason to socialize for thousands of years – and it still works well today! That's why you should make a point to join your neighbors for mealtimes as often as you can. Being able to eat together is one of the social benefits of living here in our assisted living community.
Plan a Housewarming Party
Organize a gathering in your new home. This is also one way loved ones can help seniors build their social circle. Plan a housewarming party and invite your closest neighbors. It doesn't have to be an elaborate affair. Create a place where you and your fellow residents can gather and get to know one another.
You can also look for icebreaker games that will help you ease into conversation and find common interests.
Connect with Other New Residents
Find other new residents and get to know them. You will already have some common ground being new arrivals. You can learn and explore our community together, and possibly bond over these shared experiences. As you become more acquainted with your community, your staff, and amenities, you can use this knowledge to help seniors who move in after you. You may not be the newest person anymore, but you can help support others and make new friends in the process. This can also help you feel a sense of purpose, which is an essential component of good mental health.
Be Patient with Yourself and Others
Remember to be patient with yourself and others. Building a strong social circle isn't something that happens overnight. It takes time to find compatible people and form a bond of friendship. Moving into assisted living may seem overwhelming at first, so be patient with yourself. Give yourself time to adapt and be open to making friends, but don't rush it.
Socialization is the key to preventing isolation and loneliness in senior citizens. Here at Buford's Manor Lake Assisted Living & Memory Care, we encourage all our dear residents to actively socialize. It warms us all to witness how active our residents' families are in helping their loved ones adapt and meet new people. We'd love to meet you. Stop in anytime!