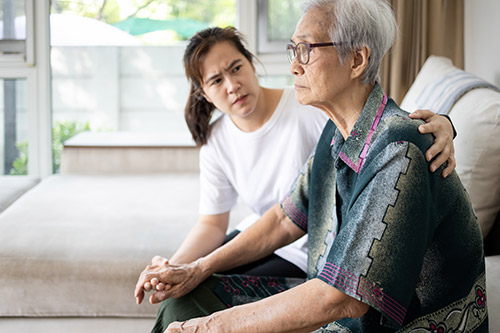 Welcome back to the second of our three-part blog mini-series covering the subject of "Caregiver Stress". We looked back on the calendar year 2022 to date and discovered that issues related to caregiver stress was a regular and recurring subject that those self-managing assisted living services at home and also memory care services at home.
Below we link to the first blog post on the subject. Here are the three different topics that we are covering:


What are the Causes of Caregiver Stress


What can you do to manage Caregiver Stress


If you are new here to our Manor Lake (Buford) Assisted Living and Memory Care Blog, you'll soon discover our blog to be a fantastic free resource on ways to learn about assisted living care and memory care and help you both provide your loved one with quality care while helping maximize your quality of life along your loving journey.
So now, onto the causes of caregiver stress.
Causes of Caregiver Stress
Common causes of stress include financial strain, relationship role changes and lack of rest for the caregiver.
The financial aspect of caring for your loved one can be one of the most troubling for caregivers. But we can help you manage that. Caregivers often spend less money on leisure activities as a result with nearly half reporting a decrease in going out to eat or taking vacations due to the costs of caregiving.
Another cause of stress is the emotional impact that comes from a reversal of caregiving roles. If caring for a parent or an older sibling it can be quite disorienting to start taking responsibility for someone who was previously responsible for you.
Finally, many caregivers neglect to give themselves the additional rest necessary for good health, since their primary focus is often on their loved one. Providing frequent support for another human is essentially doubling the work our bodies are designed to do. We all have a finite amount of energy – both mental and physical – and when we refrain from taking regular breaks, we run on fumes and aren't giving our own bodies what we need.
Remember: giving your own body and mind the care they need is one of the most important components of being a good caregiver.
Next up, we'll conclude the mini-series with a discussion about managing caregiver stress. Until then, our very warm best wishes from all of us here at Manor Lake Assisted Living & Memory Care!