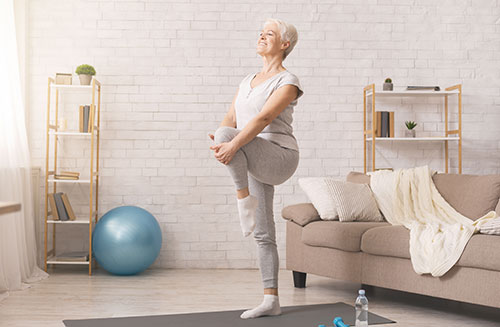 Greetings once again from your Buford-area assisted living and Buford memory care community here at Manor Lake. As we age, our joints lose fluid and our muscles lose elasticity, leading to a natural decrease in flexibility. Seniors who lose flexibility find it hard to complete normal daily tasks like getting up from chairs or walking up and down stairs, let alone more complicated chores like cooking and cleaning.
The CDC recommends that adults 65 and older get at least 150 minutes of moderate activity each week to help with strength and balance. More specifically, routine range of motion exercises can strengthen muscles and maintain flexibility. At Manor Lake Assisted Living and Memory Care, we work with residents to ensure they remain flexible to avoid issues with tight muscles and injuries.
Reasons for Range of Motion Exercises
Our cherished residents here at Manor Lake thrive with help from our experienced nursing staff whose care services involve encouraging strength, balance, and range of motion exercises. We understand how these exercises can benefit our aging community members. Consider a few of the benefits:
Decreased Risk of Injury


Improved Blood Circulation


Better Balance


Improved Flexibility


Less Arthritic Pain


Increased Muscle Strength


Good Posture


Personalized Senior Care
Our assisted living services and our memory care services here at Manor Lake assess and address physical and cognitive limitations. We help our residents to thrive with research-proven care services as well as events to stimulate residents on an intellectual and emotional level. Our routine exercise programs give our residents the physical strength and dexterity they need to enjoy the many other programs we have to offer.
Join Our Community
The residents of Manor Lake Assisted Living and Memory Care enjoy all that this beautiful location has to offer along with everything they need to live a safe, independent life, including chef-prepared meals, comfortable accommodations, entertainment and activities, and compassionate nursing staff.
We are currently accepting new residents, so don't hesitate to reach out if you need excellent care at our memory care or our assisted living community. Call us today to learn more and to schedule a tour of our memory care assisted living community.