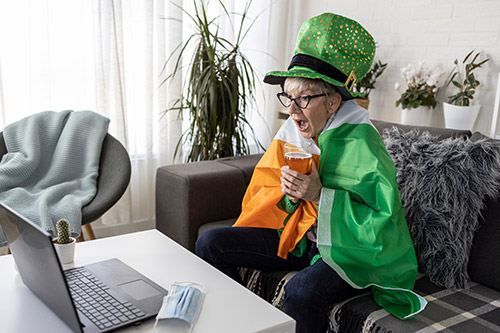 Welcome back to our blog page associated with our Buford-area assisted living and our Buford memory care community. We're also here for you Buford-area homecare heroes taking care of your assisted living and/or memory care loved ones. If you looking for ideas on how to celebrate St. Patty's day with your loved one, we have some ideas for you!
St. Patrick's Day is the traditional holiday that we will celebrate on Friday, March 17, in honor of St. Patrick, the patron saint of Ireland. While it's an Irish celebration, it's a huge occasion in many cities and towns all over the world. While some of these parties tend to get a bit rowdy, there are lots of ways for seniors to get involved in the festivities and have fun with friends and family.
5 FUN WAYS TO CELEBRATE ST. PATRICK'S DAY WITH SENIORS
Have an Irish Themed Meal
One of the best ways to celebrate the day in a family-friendly way is to enjoy some classic Irish cuisine. Gather a small group of friends and family or organize a big potluck-style dinner and have everyone prepare an Irish-themed dish. Make the party extra festive and decorate with lots of green – napkins, placemats, and centerpieces. (It wouldn't hurt to add some gold in there too!)
Create a menu with Irish themed appetizers, drinks, and dinner. Need some ideas? A few classic Irish dishes to try include soda bread, corned beef, Irish stew, and colcannon. (Or you can also just stick to food with lots of green!) Be sure to include some green drinks and desserts for an extra festive touch!
Get Crafty
Whether you decide to have a few friends over or throw a big dinner party, some fun St. Patrick's Day decorations are always a good call. (This is a great way to get kids involved too!) Get in the spirit by creating some fun Irish themed decorations. Keep it simple and cut out some paper shamrocks to place around the room or make green paper shamrock crowns for everyone to wear. If you plan on having a party, you can create centerpieces for a snack table, or some cute shamrock pins for just a touch of green. Check out these St. Paddy's craft ideas from Martha Stewart for some inspiration.
Attend a Parade
Some St. Patrick's Day parades are known for getting a little wild, but there are plenty of family friendly celebrations around. Many communities have a traditional parade, which is a great way to immerse yourself in the fun of the day. There's always something fun to watch, including plenty of music and dancing! Really get in the spirit and wear a fun, green-themed outfit to the festivities. (This is a good idea if you want to avoid a friendly pinch for not wearing green!)
Learn Some Irish Dance Moves
Irish traditional dance is a big part of most St. Patrick's Day celebrations. The lively and energetic steps are always exciting to watch, but they're even more fun when you do them yourself! If you happen to know a skilled Irish dancer who can teach you some steps, that's always a bonus. However, you don't really need lessons in order to do a jig. Simply put on some traditional Irish music and get moving. Dancing is a proven mood booster, and it's a great way to get some exercise while having a blast.
Play Some Irish-Themed Games
Add a fun twist and change up your regular game night. For large groups, Lucky Bingo is a great way to add some St. Patrick's Day fun into the mix. It's easy – take a classic bingo card and replace the top letters with L-U-C-K-Y. Use green bingo dabbers for an extra festive touch and decorate the cards with stickers. It's sure to be an exciting game with the luck O' the Irish on your side.
Celebrating St. Patty's Day with your senior loved one need not be complicated or stressful. There's real simplicity in all the ideas presented above. As always, remember that when it comes time to enjoy the life changing benefits of professional assisted living services or professional memory care services, we're here for you.