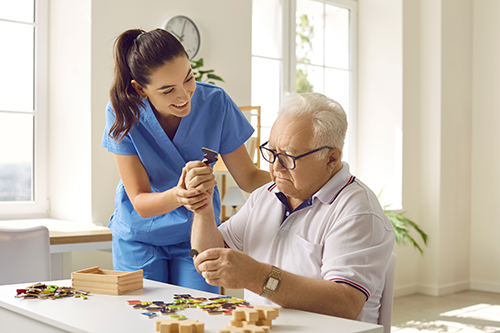 Transitioning into an assisted living community like ours here in Buford can (and should) be a welcome and exciting chapter in life. Your new community will be filled with newfound freedom and the luxury of time. But for some, this transition can also bring an unexpected sense of loneliness and isolation, especially for those living alone. Thankfully, a retirement community can be the antidote, offering an engaging social environment, meaningful connections, and a host of activities to keep your days filled with joy and camaraderie during retirement.
Building a Strong Sense of Community
One of the greatest benefits of living in either our Buford senior assisted living community or our Buford memory care community is the sense of just that, the community it fosters. Here, you are part of a family of like-minded individuals who share similar life experiences. From friendly neighbors to compassionate team members, you'll be surrounded by people who genuinely care about your well-being.
Regular community gatherings, such as seasonal celebrations, local heritage celebrations, holiday celebrations, and birthday parties offer plenty of opportunities to mingle and form lasting friendships. This sense of belonging can significantly alleviate feelings of loneliness and contribute to your overall happiness.
Engaging Activities to Stay Connected
Boredom can often lead to feelings of isolation, but in a vibrant assisted living community there's always something exciting happening! We understand that everyone has unique interests and hobbies, which is why we offer a diverse array of senior living activities to cater to different tastes.
Whether it's joining a book club, taking up a painting class, or participating in fitness activities, you'll find plenty of options to engage both your mind and body. These activities not only keep you active but also provide a great platform to interact and connect with others.
Technology for Staying in Touch
While nothing can replace the warmth of a face-to-face conversation, technology can bridge the gap when physical presence is not possible. We offer tech-support to help residents stay connected with their loved ones. This could be through teaching you how to use video calling apps, or arranging virtual family meet-ups. Through technology, you can share your experiences with family and friends, no matter the distance.
Support When You Need It
Perhaps one of the most comforting aspects of living in an assisted living community is the availability of support when you need it. Whether you need help with a health issue or just need someone to talk to, the community team members are there to assist. We offer counseling and mental health support, understanding the importance of emotional wellbeing in preventing social isolation.
Freedom to Be Yourself
Finally, a senior assisted living community offers the freedom to be yourself. Here, you can pursue your passions, engage in your favorite pastimes, and enjoy your retirement exactly as you see fit. By providing an environment that encourages individuality and personal growth, a retirement community can ensure that your golden years are truly fulfilling and far from lonely.
Manor Lake Assisted Living and Memory Care here in Buford delivers a profound positive living and quality of life enhancing experience. Come see it for yourself!