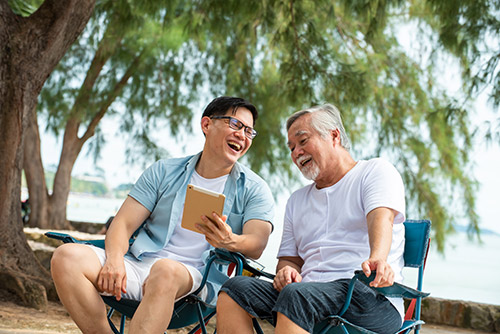 We pride ourselves here at Manor Lake Assisted Living & Memory Care (Buford) for helping more than our residents and their families. We take great pride in helping you, our neighbors here in Buford who lovingly provide at-home assisted living care and/or memory care support to your loved ones. Today we're going to discuss ways to celebrate our fathers in advance of the Father's Day weekend. Some families have traditions on this day. Others love variety from year to year. No matter what you do to celebrate Father's Day, the most important aspects for most are to honor your dad and spend quality time with him.
Here are some innovative ways to connect with your father this year.
Bring Dad on a Special Outing
Visit a Local Museum: Whether your dad is a history buff or an art enthusiast, Father's Day gives you a fabulous reason to explore a museum or art exhibit.


Spend Time in Nature: Getting outside is a great mood booster, and there are many outdoor activities to choose from. You could hike a beautiful trail, go fishing, plan a picnic, or even fly a kite with the grandkids.


Visit a Favorite Restaurant: You could share a meal you enjoy with Dad, go somewhere they love, or check out a popular restaurant you've been meaning to visit.


Go See a Show: Whether it be a movie, a car show, a play, or a ball game, some entertainment could really make your dad's day!


Honor Your Dad at Your Home (If Possible)
Organize a Meal: A fun way to get everyone involved in a Father's Day celebration is to host a potluck. Create a sign-up list, have everyone make one of Dad's favorites, and fill your plates with a variety of delicious food. You could also cater for a meal or have a barbeque.


Plan a Fun Project: Is your dad a handy guy who likes a challenge? Maybe suggest a fun group project like building a LEGO set or attending an arts or crafts class. If your dad lives in a senior living community, they may even offer something you could do alongside him.


Reminisce: More than anything, Father's Day is about showing gratitude to your dad. A powerful way to do this is to recall the ways he's been a positive influence for you. Whether you flip through a photo book or just tell each other stories from the past, this is a great way to connect on this special day.


Play Games: Lawn games, card games, board games, or word games can be fun ways to involve family members from different generations. Engaging in friendly competition can also keep your dad's mind sharp.


Unique Gift Ideas for Senior Dads
Sign Up for a Subscription: For audiobook lovers, consider Audible. For the dapper dad, investigate Sock Fancy. For the meat-loving griller, try ButcherBox.


Set Up a Digital Photo Frame: With this gift, you can share new photos of kids and grandkids from afar.


Make a Homemade Craft: Handmade gifts from grandkids are especially cherished. Check out some Father's Day projects on Pinterest.


Bake Him a Treat: Dust off a famous family recipe for a surprise treat to show your dad you love him.


Above all else, if at all possible, just physically be there with him. For the vast majority, you really need not worry about any of the things suggested above. He'll be happy to simply "wing it" with you. Happy Father's Day, to all our dear dad's here at Manor Lake Assisted Living community and our Manor Lake Memory Care community!