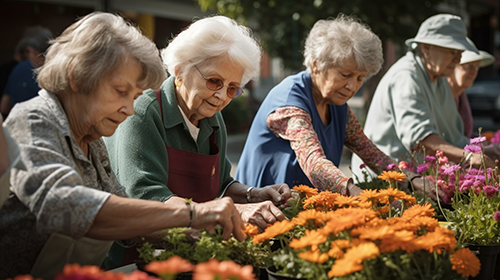 It is never easy to make the decision to transition a loved one into an Alzheimer's care community. You'll be forced to grapple with tough questions like, "Is it the best decision for my loved one?" and "Will the quality of care be worth the cost?" Once you have a clearer idea of the broader picture, you'll be able to make a more informed decision on Alzheimer's care.
To help you make the wisest decision for your loved one's future, we've rounded up some of the top benefits you and your loved one gain from a Buford memory care community like ours.
How Your Loved One Benefits from Residential Alzheimer's Care
Here are a few of the top ways that your loved one benefits from residential memory care services.
Improved Quality of Life
You know exactly the kind of toll that Alzheimer's has had on your loved one. You've witnessed the decline of their cognitive abilities and how their life has changed. Fortunately, a memory care home can significantly improve their quality of life.
Within their community, your loved one will receive personalized care services to benefit their everyday life. Not only will they receive the nurturing benefit of one-on-one care, but they'll also experience fewer injuries, participate in more engaging activities, and feel more connected with the community around them.
Independence In a Safe Environment
Our memory care community goes to great lengths to achieve a delicate balance between resident safety and independence. Your loved one deserves to have the freedom to go about their days how they see fit without sacrificing their own security.
For that reason, our community leverages innovative security features to monitor resident safety while simultaneously allowing them plenty of freedom. For instance, here at Manor Lake Assisted Living and Memory Care in Buford, our community is outfitted with monitored exits and a secure backyard. Our residents are also free to go about their days at their own pace. Throughout any given day, residents can bake some goodies in the kitchen, relax in the living room with their favorite film.
Greater Socialization
One of the biggest concerns for older adults experiencing Alzheimer's or dementia is increased isolation. Loneliness may worsen their disease and contribute to the development of other serious conditions, such as depression. Fortunately, that's not the case in our memory care community!
Within these communities, there are plenty of opportunities for social interaction. These may include:
Organized social activities and communal games


Group excursions to local attractions and events


Daily meals hosted in the family-style dining area


And much, much more


That daily socialization can make a significant difference for your loved one.
Specialized Support for Behavioral Issues
As experts at the Alzheimer's Association note, Alzheimer's disease and dementia can lead to a number of behavioral issues. These may include behaviors like:
Increased irritability and anger


Sundowning


Mood swings


Wandering behaviors


Hallucinations or delusions


We understand these are difficult and frightening subjects to consider. With that said, here at Buford's Manor Lake Assisted Living and Memory Care, we are highly trained and skilled subject matter experts on the two subjects. And we can help you whether you are a resident, resident family member, or a non-associated care giver simply doing their best to serve another. We salute you and want you to know that we are always open and ready to talk.