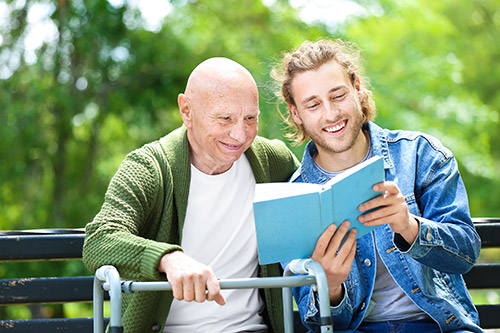 Today's blog post is targeted for our entire blog reading community. Whether you are a beloved senior assisted living resident here at Manor Lake, a loving family member of a memory care resident, or one of the many providing loving care for a cherished assisted living or memory care loved one, we send you all our warmest Memorial Day wishes. We hope this important federal holiday offers you all a chance to maximize your time together.
With the extra time together this weekend (or anytime in the future), we take a moment here to discuss the value of shared reading experiences with your loved one. A number of our residents and their family's share a kind of "book club" relationship where both parties read a written work and then subsequently discuss the book together. It is always a special moment for us to witness family members reading to their senior loved one, especially within our memory care community. Studies reveal that the mere sound of a family member's or friend's voice is demonstrably therapeutic to memory care patients.
So as a suggestion for something to look forward to over the upcoming long weekend, consider researching and procuring a written work that might help you both learn and share the meaning of Memorial Day. You can rest assured that every member of our assisted living and memory care communities here in Buford who have lost a loved one in the service to our country will be granted special attention and recognition for their gift to our country.