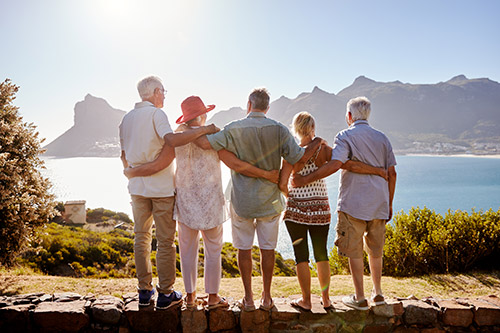 The holiday season is here, and we all look forward to spending quality time with our loved ones. While we will enjoy special meals and special events here at Buford's Manor Lake Assisted Living & Memory Care, for at-home caregivers the holidays can be stressful. For you loved ones, the holidays can heighten the feeling of isolation and sadness. Let's address all this head-on.
Below are a few tips that should be on your holiday to-do list to check on the loved ones under your care and ensure they are all set for the holiday season:
Keep a Check on Their Well-Being
One of the most essential things is assessing your seniors' health. Ensure they are taking their pills or medications regularly and on-time. Check if there is a need to refill their medicines. It will also be a good opportunity to talk to their doctors in person or over the phone.
Ask them how well they are doing and if there is anything that needs to be done soon. If you are going out for a while, leaving your old ones at home, you must obtain a full list of every prescription they take.
The list should also include their doctors' names and numbers, addresses, and email addresses. You must also have a plan in mind for any untoward event that may occur, and you must rush back to them.
Make a Pre-Vacation Checklist
If your elderly relatives are accompanying you on a trip, make sure you get their doctors' approval before leaving. Since it is mandatory to get country-specific vaccines if you are traveling abroad, check the country's travel guidelines well in advance so you have enough time to get timely appointments for the inoculations.
Over and above that, carry their medication along with you in case of an emergency. Ensure that all their prescribed medicines and first-aid drugs, recommended for health conditions such as diarrhea, malaria, altitude sickness, etc., are part of your travel kit. It is also recommended to carry slightly more than the required dose to avoid running out if your trip gets extended for unforeseen reasons.
In addition to this, it is advisable to book assistance at the airport. Contact the airline and airport authorities to get assistant-manned wheelchairs and ride-on carts for your parents. Always remember to avail of these services wherever and whenever necessary to avoid over-exhaustion while traveling.
Look Closely
As your parents will always want you to believe that all is well, you do not always realize whether they need any extra care or not. Therefore, it is important to look deeper to truly see how well they are living and if something is missing, that needs to be done. For instance, it is recommended to inspect their bathrooms.
Are they clean? Do they have soap, shampoo, disinfectant, and clean towels? Check the refrigerator. Do they have a variety of foods and vegetables to provide them with enough nutrients? Is there any outdated food? See if they are taking out the garbage regularly or not.
Prepare the House for Eventful Days
As there are many festivals lined up back-to-back this holiday season, if your parents are planning to host a gathering or out-of-town guests, it will be very helpful if you take the initiative to clean and decorate the house and do everything that comes with preparing a house for hosting guests. Ensure they have everything they need to make these events joyful and stress-free.
Grocery Shopping and Meal Preparation
Grocery shopping and meal preparation during the holidays can be challenging for your loved ones, especially without any transport facility or if they have trouble lifting heavy items. Depending on mobility and agility, your parents may struggle to lift heavy pans in and out of the oven or prepare holiday dishes as quickly as they used to. Therefore, make sure they have everything they need in place.
Also, ensure they have a care provider who can assist your parents with tasks such as chopping vegetables, cleaning kitchen equipment and appliances, etc. so that their special family recipes and holiday meals for guests turn out just the way they want.
Ensure Home Safety
Your parents need to live in a safe home that prevents injuries, reduces fall risks, and ensures independence as they age. Therefore, without further ado, incorporate home safety tips into the house and follow a home safety checklist this holiday season.
Remove trip hazards, install non-slip flooring, cover all cords and wires, and install bathroom grab bars to ensure safety for your parents. Ensure a senior-friendly home by adding accessible seating as well. For instance, install a bench near the house's front door for putting on shoes, and put a stool in the bathroom and kitchen for your parents to perform the activities of daily living with ease.
Encourage Exercise
Physical activity is essential for your aged parents. But as soon as the holiday season kicks in, many of their daily routines go for a toss. With several other things in mind, your parents' daily exercise routine may also take a back seat. Therefore, they should ensure they are keeping themselves physically active.
It will keep them fit, reduce their stress and tension, and help them burn off the extra calories they consume during the holidays. In addition, advise them to stay hydrated for their bodies to function at their best throughout the winter. Staying hydrated will help them feel more energized, boost their immune system, and increase their ability to deal with fatigue. It will also help them stay healthier and more active in all the planned holiday festivities.
Prevent Infections
Because the holiday season coincides with the arrival of winter, your parents are more susceptible to colds, flu, and other illnesses. Therefore, opting for influenza and pneumonia vaccinations is recommended to keep them safe. Also, as we have just come out of a deadly COVID-19 pandemic, ensure your aging parents are fully vaccinated, along with the booster shot.
In addition, you must help them follow healthy hygiene habits such as washing their hands, sanitizing surfaces, etc., to keep them from contracting infections. While getting immersed in the chaos and shuffle of family gatherings is good, make sure your loved ones are staying healthy and enjoying every planned holiday event by following a healthy lifestyle.
Encourage a Sleep Schedule
The holiday season is undoubtedly the time of the year when we all skip some of our essential needs, such as sleep. And your parents are no different. While it is fun to spend time celebrating and catching up with friends and relatives, a lack of sleep can harm your parents' health. It may also affect their memory, communication ability, and overall health. Therefore, please encourage them to stick to a healthy sleep schedule as much as possible.
Provide Emotional Support & Companionship
You must provide emotional support and companionship for your parents as the holidays approach. It is common for seniors to experience loneliness and isolation. With age, they may not be able to get around on their own anymore, may have also lost their close ones, and therefore, spend a lot of time alone, which is not good. If you stay away from them, plan weekly or bimonthly visits.
Even if you don't do much and just simply sit and have a cup of tea, it will be something for your aging parents to look forward to and cherish. Once in a while, you can take them to community functions or church services. Feeling like a part of a group positively affects overall mental well-being.
Conclusion
All in all, while you may have been able to gauge your senior loved ones' safety and well-being, it is sometimes necessary to personally look at their conditions. Make sure you engage with them more often. The absence of family or even someone to talk to impacts everyone, regardless of age. Moreover, as your parents' needs are rapidly changing, it's essential to talk with them, including other family members and caregivers.
If caring for your senior loved one at home feels overwhelming, whether you are an at-home senior assisted living support provider or an at-home memory care support provider, we can help. Our mutual love and admiration for our seniors binds you and us as a team.